Are you one to thrive on your strong camaraderie with gym equipment and fitness gear? Here are the best top-rated fitness gear reviews to do justice to your love for work-out and create your own home gym.
After you've decided what fitness gears you need in a home work-out studio, there's a lot more to consider. This includes the space availability in your home gym, the budget, and the reviews of fitness gears. Considering that your home gym contains limited and selective fitness gear, you do have to make sure they fully meet your criteria of an ideal home gym.
So let's do our much-needed homework and explore the plethora of options to suit your personal requirements. The following are fitness gears that are versatile and multi-functional in many exercise types.
Exercise Bike
Whether strengthening exercises or cardio, cycling is an excellent work-out. With the wholesome experience that the exercise bike provides, it is in great demand. Therefore, there are many competing brands adding new top-notch features to be on the very top.
However, the best-rated exercise bike 2020 is the Peloton Bike. The sleekness and futuristic look was undoubtedly the showstopper, but the additional features that come along are definitely breath-taking. Reviewers say that once you use a Peloton bike, it's hard to settle for anything less. The 22-inch tablet, sweatproof, and touch-sensitive enhances the overall experience. Taking up only 4 feet by 2 feet floor space, the style and design are ideal for a home gym. Moreover, silent and noiseless working makes it an even more attractive option. The saddle adjustments and the electromagnetic resistance for pedals and flywheel are highly sensitive to suit all levels of exercising.
Nevertheless, the price tag is probably the deal-breaker and allows other competitors to rise to the standard. One such is the Echelon Smart Connect EX5 that is on par with the Peloton on many of the features like the connectivity with its app, the tablet, and the overall feel. But reviewers that had used Peloton have claimed that the resistance adjustments aren't as accurate and sensitive as Peloton. Also, the app's data analysis might be a bit inaccurate when the bike is not connected.
Resistance Bands
Now that people have started resorting to working out at home due to the coronavirus pandemic, fitness gears like the resistance bands have gained popularity. Not only is it easy to set up but can be used in various strengthening exercises. Besides training work-outs, these can also be used in physical therapy.
Fitness gear reviews have awarded the Bodylastics Stackable Tube Resistance Bands as the top for 2020. Its built-in safety guards are probably what set these resistance bands a league apart. No other brand has included such features in their bands. Moreover, the bands are made to resist overstretching thanks to the woven cords tucked inside the tube. The set of five different resistance bands comes along with door anchor to adjust the height accordingly, two secure grip handles, and padded ankle straps.
In competition, the GoFit ProGym Extreme also provides a complete package. However, instead of five, there are only four levels of resistance. It also comes with rubber handles, door anchors, padded ankle straps, and a manual. Although this product also sets itself apart with the amazing storage bag, it does not match the sturdiness as the best pick of 2020.
Those that rely majorly on resistance bands for their strength training should definitely consider the Resistance Band Training Economic Fitness Package. Unlike others, these come in sets of 4, 2 each of 2 resistance levels. The bands are two continuous rubber loops that have proven to be more long-lasting and durable. Along with the foam covered handles, some anchors allow you to loop the band on a stationary object like a fence pole. However, it is on the pricier side.
Yoga Mat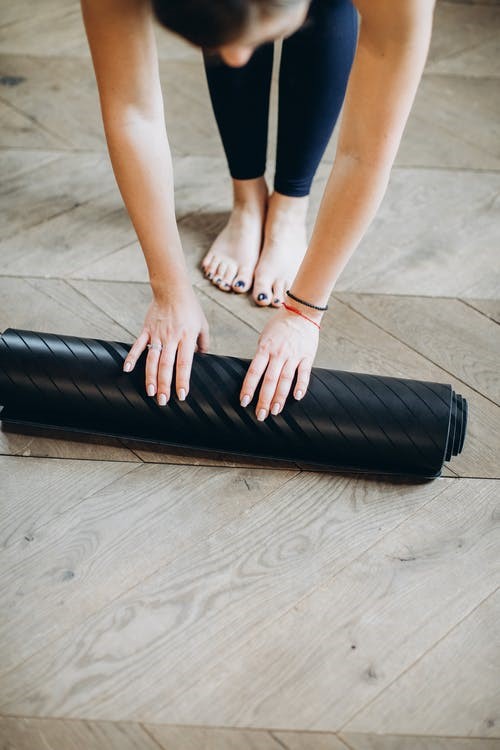 One of the most important essentials – the yoga mat. Whether it be Zumba, power yoga, jumping jacks, or any kind of exercise without fitness gears, the yoga mat is a must. Regular yogis know the value of high-quality, supportive, and durable yoga mats.
After much experimentation and reviewing various yoga mats, the Lululemon The Reversible Mat 5mm is selected as the most worthy yoga mat for 2020. It is no surprise that this yoga mat has fulfilled all nine criteria that it was judged against like stickiness, weight, durability, and feel, to name a few. The best part, however, is its double-sided functionality. One side is a smooth polyurethane surface that lets you develop strong stability and adherence. The other side is a spongy rubber surface that makes sure that sweaty palms and legs don't slip. The yoga mat has an overall thickness of 5mm perfect enough not to let your hands and knees sink in but to cushion it.
On the other hand, reviews of fitness gears have also selected other worthy opponents like the JadeYoga Harmony Mat. Made from 100% rubber, this yoga mat is a natural absorbent for sweat and maintains traction. In comparison with the top pick, this yoga mat is slightly thinner, about 4.75mm. It is available in many sizes, but keep in mind larger the mat the heavier it is. The disadvantage is the rubber odor that may remain for a few days, and those with latex allergies should definitely avoid this.
Exercise Ball
Call it the stability ball, Swiss ball, or yoga ball; just like its names, there are also numerous uses. Used in mainly stability exercises, the exercise ball is also used during pregnancy and also used to spice up everyday exercises. The exercise ball is a fun way to work-out.
Amongst all the fitness gear reviews for exercise balls, the TheraBand Pro Series SCP Exercise Ball topped all the others. Even though it takes a pretty long time to inflate, the wait surely pays off. The stability, thickness, and quality of the ball are commendable. It has just the perfect bounciness to facilitate movement yet stay put. It is also available in many sizes to accommodate taller people.
Next in line is the Power System VersaBall Stability Ball. It has come to par with the top in sturdiness and quality. With the second-longest time to inflate, the ball speaks for its quality. It has almost the same standards as the top reviews but only lacks a little behind.
Before purchasing any fitness gear, it is important to go through the reviews. However, what is more, important is how well the top picks fulfill your requirements. You need to ask yourself: how many days will I work out? Do I really need the tablet extension? Do I require a double-sided yoga mat keeping in mind the kinds of exercises you do? How many people in your home will use it? Can your home gym accommodate the equipment?
Design your home work-out studio with your requirement framework and capitalize smartly on your resources.