Starting a personal training business is often thought of as a glamorous profession because personal trainers make their own hours, decide their pay and decide who they will train.  But ultimately starting a personal training business is based on two types of grunt work: the work you and your clients put into at the gym and the behind-the-scenes work that it takes to start and maintain your personal training business. So here's the guide on how to start up a personal training business:
So if you are thinking how to start up a personal training business, here are five steps you can follow to set yourself up for success.While there are no professional licenses required to become a personal trainer, it is important to get proper education on how to safely train clients and the potential liabilities you face as you begin training clients.  Another important piece of education you should work toward is how to properly set up a business.  It is important that you build a scope for your practice and your goals for yourself and your clients before you begin training with your clients.
How to start up a personal training business
1. Certification
While it is not required to become a personal trainer, clients might not consider working with you knowing that you are not certified.  Take some time to pursue a personal training certification from a reputable, accredited local university or nationally recognized program through the National Commission for Certifying Agencies, or NCAA.  If you decide to attain a certification, you should expect this process to take anywhere between six months to a year to get your certification.  There will also be a cost associated with the exam and that can range anywhere from $600-$1000.  While it seems like it is a great expense in both money and time, having a certification will guarantee you are prepared to train your clients properly and its the first step on how to start up a personal training business.
2. Register Your Business
Now that you have attained your certification, it is time to register your business.  You will need to decide what your business will be named then register that name through your state government.  If you will be operating as the sole proprietor, you can register your name through your social security number or obtain an Employer Identification Number (EIN) through the United States Internal Revenue Service (IRS).  If your company grows enough to where you need to hire employees, you will be required to obtain an EIN as it changes the status of your business which is the second step on how to start up a personal training business.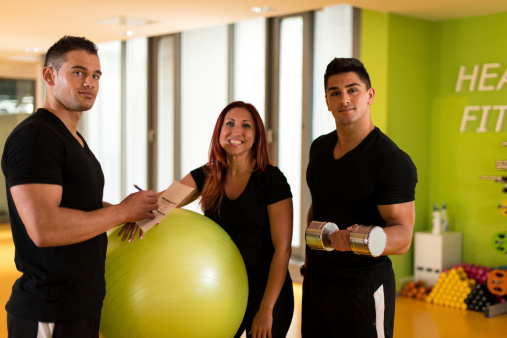 3. Register to Pay Taxes
Not only do you have to register your business name with your state government, you also need to register your business name through your State Revenue Agency.  It is important to note that your state may have different tax and registration requirements than another state.  Take time to research your local requirements as it will make the process smoother.  After you have registered your business name, you will need to obtain a business license.  While there are no licensing regulations for personal trainers, you will need a business license to legally operate as an independent business which is third step on how to start up a personal training business.
4. Protect Yourself
The next thing you need to do is purchase liability insurance.  Having liability insurance protects you in the off chance a client gets injured while training with you.  Often the organization you received your certification through will offer good prices on liability insurance for person trainers.  If you decide to work with an established gym, ask them about liability insurance as they likely have an established organization that you could work through.
It is always a good idea to carry your own liability insurance above and beyond what you get through the gym as you might not be covered if you train a person outside of the gym's facilities.  This will ensure you are protected at all times while training your clients and this is both beneficial to you and your client which is fourth step on how to start up a personal training business.
5. Make Connections
Now that you are certified and have registered your business with your state, you need to decide how you will personal train your clients.  If you are not sure where to start, try approaching your local gym for work as a personal trainer.  Starting a personal training business at a gym gives you access to equipment and the potential to build a wider client base.  Talk to the gym about possibly hosting seminars or providing the client's access to you by walking the floor and chatting with people already working out.
If you are doing an in home studio or other in-home training, you will have to get a little more creative.  The best thing you can do is start building your clientele then using word of mouth to get your name out there.  Also think of places you could place advertisements locally that would be a cheap opportunity to get your name out there.
If you are considering becoming a personal trainer, follow the five steps provided above and you will find that your startup will run smoothly and you can begin building your client list and creating a successful career for yourself.
Read Also: HOW TO START A BUSINESS WHILE ON DISABILITY