Summertime is probably the most exciting time of the year for most kids. It is the end of the school season and all they can think about is the lazy days that lie ahead of them. As parents, it can be a tough job to deal with daily household chores and the kids simultaneously. For a lot of parents, summer holidays can be mentally and physically taxing due to the increased workload. If a proper schedule is not put in place, the house can become quite a mess. With the kids being home all day, summertime becomes a full-time job for most parents. There is much more cooking to do, more cleaning up and a list of other domestic errands to run.
But summer can be made into a fun bonding time for both parents and kids. The key is to plan a routine that includes daily household chores and different fun activities. Encourage your kids to follow this routine and lead with example. This can help them stay productive while keeping the true spirit of summer holidays alive.
Although every household has its unique set-up, you can keep in mind a few important factors that can help you make your very own summer routine. (Read on 10 things to do this summer.)
1. AVOID OVER-PLANNING:
Do not try to cram your day with a lot of different activities and tasks. This would be overburdening for you and the kids. Create a plan that you can stick to regularly. Try to strike a balance between household chores, fun activities, and some free time as well. This free time can be a great opportunity for the family to bond and have fun. After all, summer is the only time of the year when the kids get a chance to put on their lazy shoes and relax.
2. PRIORITIZE ESSENTIAL HOUSEHOLD CHORES:
With the kids staying indoors during the summer holidays, the load of daily work around the house increases dramatically. Be it laundry, regular house cleaning, preparing meals, or more. As a parent, you can always appreciate a helping hand or two with these household chores.
Getting the kids involved in running errands around the house is an excellent way to maintain productivity. You can also teach them new household skills like cooking, this can be an enjoyable experience for both of you. Furthermore, assigning daily duties to kids can help develop a sense of responsibility in them, also preparing them for when they decide to move out in the future.
3. MAKE A DAILY MEAL PLANNER:
There are a lot more meals to serve during summer vacations than on regular days. You have to make sure everyone is well fed. You do not want a bunch of hangry kids running around the house. This can get burdensome and you might feel like you are in the kitchen all day preparing one meal after another.
To make sure everyone is getting quality food on time, devise a customized meal plan for your house. This will help you to stay on track with your daily cooking routine and ensure that you do not run out of ideas regarding what to cook.
A good approach would be to assign kitchen duties to your kids. This can be an inclusion to the list of chores for summer vacation and will help them stay active. You can distribute the small tasks like cutting vegetables, washing dishes, and cleaning the counter, etc. to the kids daily.
Remember to stay unbiased while entrusting the kids with kitchen responsibilities, or else you might just spark an unintentional sibling rivalry. You can also follow a reward system where you reward the kids with things like ice-cream after they complete their share of daily chores.
4. LEARN NEW SKILLS:
Summer vacations usually last around 2 months at most schools. These 2 months can become boring for kids if they do not have much to do at home. As a parent, summer holidays are an excellent opportunity to equip your kids with basic life skills.
These skills can include interactive practices like Perspective talking, communication skills, critical thinking challenges, cooking and, other basic household chores. The best way to indulge your kids is to make these activities as exciting and enjoyable as possible.
Utilize these holidays to plan family trips to the museum and the local library. This can be the family's day out. It can also be an exciting opportunity to educate kids about history in a fun and engaging manner.
5. INCLUDE PHYSICAL ACTIVITIES IN YOUR SCHEDULE:
While preparing a list of things to do this summer, make sure that you include activities to keep the family physically active during the holidays. Encourage the kids to play outside and have fun. In this digital age, kids have a natural inclination towards video games and web surfing.
Excess exposure to these digital mediums can take its toll on young kids, both mentally and physically. Hence parents need to plan a balanced schedule for their kids which accommodates both physical and digital activities.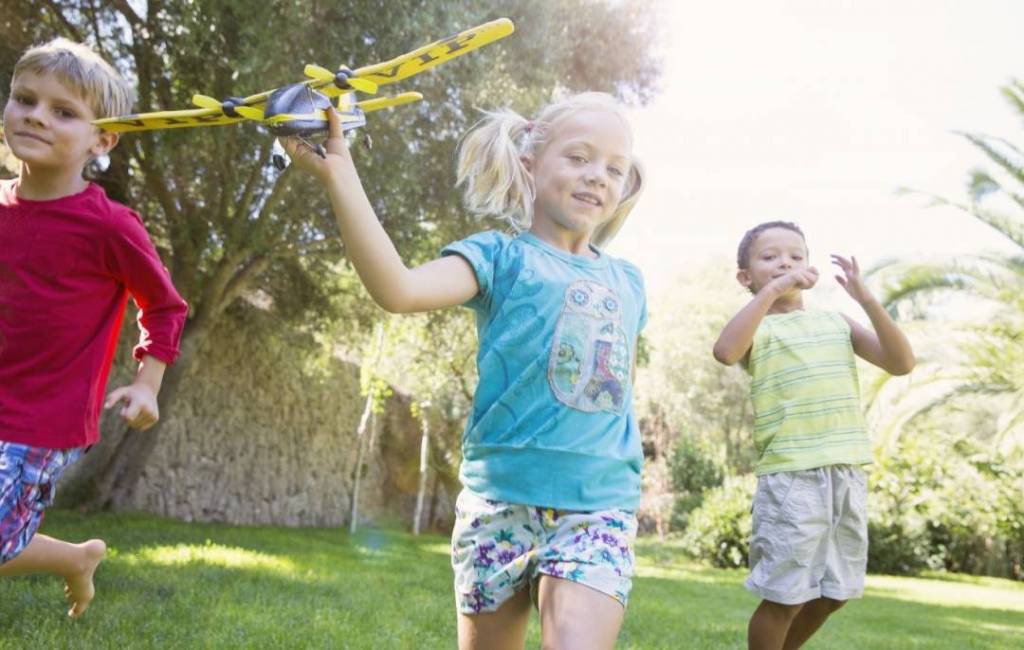 Another good idea would be to set up home workout sessions. This can be a great way for the family to bond and have a good time. Remember to keep the exercises light and fun, you do not want to overdo it.
For most people including me, the highlight of summer vacations has always been the visit to the beach. Beach trips are a must for every family during the summer holidays. It is an extremely fun and relaxing getaway for kids and adults alike. Plan a family picnic to the beach, you can prepare homemade food and refreshments for the trip. The kids can be treated with the beach trip as a reward for helping out around the house and completing their assigned chores.
We hope that this guide has provided a bunch of interesting summer vacation ideas for you and your kids to enjoy and stay productive. Remember, the whole point of a summer routine is to have fun and enjoy the holidays.