Yoga Pants? Check.
Music playlist? Check.
Gym membership? Check.
Motivation to drive to your gym? You wish someone could gift that to you.
People who regularly workout and exercise can relate to the struggle of getting up from their cozy bed, get into your workout outfit, and drive to the gym. All of this, with their weakly-mustered determination running out.
How about, instead of going to the gym, you bring the gym home? You get to set your level of comfort and your very own gym equipment. Best of all you don't have to pay for gyms you don't even go to.
Setting up your own home gym may sound like a very extravagant alternative to working out, but the initial cost is all that is. The gym fees that you give each month adds up to almost the same amount, maybe even more. So why not invest in something that is going to benefit you as well?
So let's get started and set up the best home workout studio for you. There a few home workout essentials that are a must-have for efficient and gratifying exercise.
What You Need For a Home Workout Studio?
Besides those super-comfy tracksuits and a motivation to lose weight, you've got to know how to facilitate yourself. Be mindful of the things that you absolutely require.
1. Yoga Mat
If you don't have a yoga mat in your home workout studio, get it. The yoga mat makes any floor suitable for exercise and completes the setting of the best home gym.  When purchasing a yoga mat, look for a sturdy material. The material should be such that it can endure vigorous use and weight. Also, it should be just the right thickness to cushion your floor but not be like a mattress, of course.
Added bonus, you can also use it for yoga. Did you know yoga not only enhances spirituality but is an excellent contributor to weight loss? Try out these fantastic power yoga exercises at home for weight loss.
2. Jump Rope
Yes, I'm talking about the same jump rope you played with in your childhood. If you did not already know, the jump rope provides excellent workout sessions. It is an amazing cardio exercise and improves agility and posture. Rather than going for a fancier jump-rope, go for something more useful. This includes adjustable lengths, thin rope, and light material.
As you move from a beginner to an intermediate and expert, you'll learn how jump rope exercises can be made more wholesome and challenging. Incorporate it with other tasks like pushups and jumping jacks.
3. Adjustable Workout steps
There are so many exercises that require raised platforms, and workout steps are amazing for that. Although you can use the chairs and sofas in your house in your home workout studio for that but then again, where's the professionalism in that?
Workout steps, stand-alone, provide amazing cardio sessions. Also, it can be paired with other exercises to give a further workout. Such multi-purpose home workout essentials make the investment worth it.
4. Resistance bands
I find these particular home workout essentials extremely useful and worth it. Resistance bands are excellent for upper body and arms. It also improves stability and coordination. The best part, however, is that it allows you to do various fun exercises. When buying resistance bands, make sure you get the bands with suitable resistance: light, medium, and high.
Resistance bands add excitement and fun to your workout sessions. You can use it in various dance steps like Zumba, which is great for weight loss.
5. Dumbbells
If you say you work out and find no dumbbells in your house, I'll think you're lying. Dumbbells provide such a holistic and multi-faceted workout experience; it's definitely got to be on the list for home workout essentials. Be it for your arms or your abs; dumbbells are always helpful. The thing about dumbbells is that it allows you to work out large muscle groups.
Dumbbells are an easy way to increase the difficulty of your exercises and make exercises more effective and interactive.
6. Foam Roller
The purpose of a workout is not burnout or losing weight overnight; it is training your muscles and releasing tension. During exercise in workout studio, it is common to face tensed-up and knotted muscles. Although massages also work fine, these foam rollers just hit the right spots. It is not only available as mechanical rollers but electrical as well.
7. Treadmill
Treadmills have got to one of the best cardio exercises for weight loss. Even in this quarantine, taking leisure walks is not the same anymore. Walking is not only a great weight loss exercise, but it also strengthens the leg muscles and improves metabolism.
The initial cost may be high, but the treadmill is definitely a must-have for the best home gym or workout studio. You can also perform other upper body exercises along with a treadmill, so it's pretty much a whole package.
8. Stability ball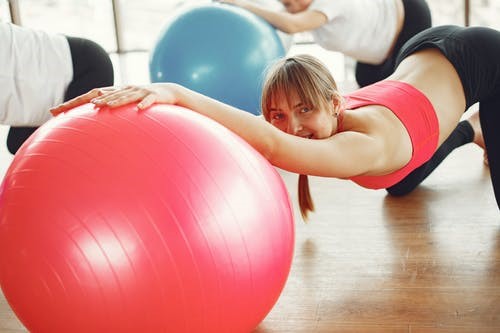 Stability balls are an ideal home workout essential for strengthening the core and abs. They provide various home workout exercises like squats, pushups, hamstring curl, and Russian Twists. Most of all, stability balls are available in multiple sizes and rigidity so that it can be adjusted as per your requirements. As the name goes, it also improves stability, balance, and flexibility.
Add that to the fact that it is an amazing home workout studio equipment for pregnant women and physiotherapy as well.
Complete your best home gym with a classic stereo system. Strapping your music device to your arms is such a hassle. Make your exercise more fun as you move your body to the beat of the music and burn those extra calories.
It looks like we've got all the home workout essentials. Now let's see what YOU need for a home workout studio. The list above is just a general list of important equipment to get for a gym. However, you must also stock your home gym with the essentials that you require. The pull-up bar is also a worthy investment if you're working on your upper body and arms.
Keep yourself fit with exercise that suits your body. Here are a few 30-minute activities that you could include in your workout sessions. Turn up the heat and burn some calories.